We Serve; Auburn, Lincoln, Loomis, Rocklin, Roseville, Sacramento & Placer County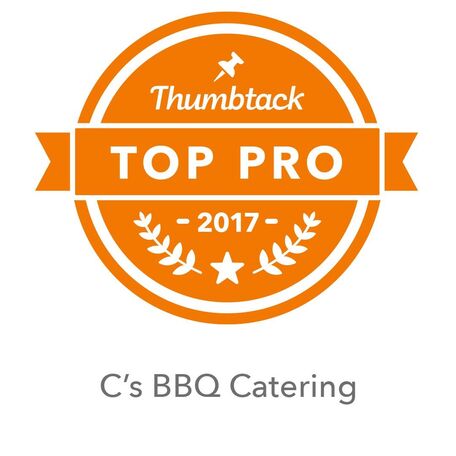 Thank You, all our clients for your business and great reviews.
Because of all you we just received a "Top Pro 2017" award from Thumbtack, along with our past awards
"Best Of Catering Award for Roseville" for the second year (2014-2015).
We also won the "Best Of Catering Award for Loomis" (2015-2016)
Check it out pass it on to your friends.

Thank you all for your support and prayers!!!

We are a catering company, all meals are cooked to order, we generally need at least 3 days lead time to put an event together.

Reviews From Clients

Man, If I could give this place 6 stars I would. We had a wedding for about 150 people and was looking for an easy outdoor meal. BBQ sounded perfect. Reluctantly we had to make the choice to go with c's BBQ without even giving them a taste test (because we couldn't get there before the wedding to actually taste their food). But because of their low price we chose them. They had a bunch of different options but decided to go with the pulled pork sandwiches, and chicken thighs. There was also a bunch of sides to choose from like baked beans, green salad, potato salad and honey cornbread. Man... Everything was so spectacular. From the pulled pork being wonderfully moist, and the chicken thighs being grilled first, then cooked slowly so the meat came right off the bone. The sides were so fantastic, I especially liked the potato salad. These guys were so low maintenance, they showed up and knew exactly where to set up without much direction... And Chris and his wife came and monitored the buffet style setup and everything worked flawlessly. And to top it all off, they personally bagged up all the leftovers and left it in the fridge of our event and we were able to fire up some ovens and eat leftovers after our reception ended. I recommend these guys for any event you have. Trust me, I'm a foodie... I loves my grub, and these guys know what's up. They even had pickles on hand to complete the flavor of the pulled pork sandwiches. Pick these guys for your event and you'll have a bunch of happy guests.
Yelp - 5 Star Jared

Hi Chris and Dottie!
Thank you both so much for your delicious food and prompt, professional service!
Our gathering was a wonderful time of loving celebration!
Your support made it easy and fun!
Hope to have your help again in the future.
Many blessings!
Elaine - Email

Chris, Thank you very much!
We were very happy with the service and my family loved the food!
I will definitely keep your company in mind for future occasions.
Thanks again,
Catherine - Email

Hello Chris,
Thank you for the awesome service and dinner. We heard RAVE reviews throughout the night and several commented that this was the best dinner ever for the Crush event!
We will definitely keep you in mind for future events at Clos du Lac.
Thank you, again, and best wishes for a wonderful year!
Debra - Email

Hey Chris
You guys were so awesome. So low maintenance. And the food was spectacular. We had nothing but positive reviews about you guys. We even fired up the ovens and had a little midnight snack, we will recommend you guys to anyone. Thanks again for your assistance, our wedding was a day to remember. Thanks so much for being a part of it.
Jared - Email

Hi Chris,
Sorry its taken me so long to let you know how pleased we are with your services. Super busy week.

Everyone raved about the food; the chicken was moist and delicious and the salads so incredibly fresh and yummy. And for me, your dependability and communication made it such a stress-free event. When we first started planning our birthday bash I had only two objectives: a fun party and minimal work. For sure, both were accomplished.

Quantities were just about perfect on the fruit and chicken. We did have a whole salad untouched and part of another left. We took the unopened salad bowl to the Salt Mine in Lincoln which feeds people. So it did not go to waste. All in all, great meal with many compliments!

Thanks so much for making our party such a huge success.
Sandy - Email

Hi Chris,
Things went great and plenty of meat. The potatoes were the hardest hit and still a tiny bit of leftovers. Everyone raved about them and the food in general. :-)
Thanks again!
Carrie - Email

Chris & Dottie,
Lunch was great received many compliments.
Thank you
Gail - Roseville Joint Union High School District - Email

Needed meat only for a team BBQ. Chris delivered the meat to our picnic site. Food was great- Santa Maria Tri Tip and Chicken.
Brian - Five Star Thumbtack

Thank you for the wonderful food! You and Dottie are amazing and we will absolutely be calling on you again!
Regards,
Angela - Nortech Waste Email

Chris & Dottie
You two were awesome! We have had nothing but great feedback-not only about how good the food was, but also about how much everyone enjoyed the two of you. Hope we can do this again next year
Vicki, Founder, RRUFF - Email

Thank you Chris! The food was great as always!
Have a blessed day!
Steve | Men's Ministry Director - Email

Chris and his partner were nothing but professional from the moment he first contacted us. Food was awesome. The buffet line was set up and maintained nicely.
Ryan - Five Star Thumbtack

Hi Chris,
The food was delicious and was well enjoyed by all.
Thank you,
Kevin Mens Ministry CCC - Email

Hi Chris & Dottie
Everyone raved about how good it was. I even have the family asking for some of the left overs. Thank you so much for such a lovely meal...
Jolie - Email

Chris was a pleasure to work with and the quality of his food was first rate!!! I will use him again any chance I can and will certainly be recommending C's BBQ Catering to my friends, coworkers, and family.
Dave, Roseville Fire Dist. - 5 Star - Thumbtack

Chris,
Just wanted to thank you again. I am so grateful for your prompt and courteous response...it was such a relief to what had been a very stressful situation for me. It was a pleasure to meet you and Dottie! And...everyone enjoyed the tri tip! I will be spreading the word far and wide!
With gratitude,
Tracy - Email

We were all very pleasantly surprised at how good everything tasted! The mac & cheese was everyone's favorite! We will definitely be using you guys in the future!
Thank you so much!
Karin - Email

"Exceeded my expectations from the initial communication to the actual catering of the event. I will definitely use C'S BBQ Catering again."
Michelle Thumbtack - 5 Star

Dear Chris
Thank you so much for your catering of Virtual World Youth Day at Trinity Pines! Rob wrote Saturday night and said "the caterers were great and the food was delicious!" On Sunday the Director of the DEC ( head of all such events & more at the Diocese) gave you and extremely enthusiastic kudos for the incredible meal! Needless to say you were a hit! So nice to work with you! Thank you for everything!
Kind Regards - Karen
Note Mailed

"We had our 7/2/16 wedding catered by C's BBQ and Chris & Dottie did a superb job, not to mention the food was delicious!!! Let me start by saying that Chris is a great communicator! He quickly responded to all my emails and his responses always put my mind at ease. With all the stress of wedding planning, the one aspect that I felt confident about was the food. And speaking of, we offered a buffet that included brisket, which can be tricky if not done right, but Chris did not fail to deliver. Not only was the brisket raved about, the chicken was moist and tasty, the chipotle baked beans were devoured, the potato salad was fantastic, the mac & cheese was creamy, and the cornbread was the perfect balance of sweet, savory & yummy! We ordered enough to feed 100, and had more than enough food. At the end of dinner, Chris & Dottie discretely broke down the buffet (professional stainless steel chaffing dishes), packaged up the leftovers and stored them in the refrigerator for us to take home and enjoy later. We can't thank them enough for helping to make our BIG day shine!
We continue to receive compliments on the great food and the professionalism of Chris & Dotty and If you're considering BBQ for your wedding, you can't go wrong with C's BBQ!
Cheers! Andrea & Mike Loomis, CA"
5 Stars Yelp, Wedding Wire, Thumbtack

Hi Chris
The party was a great success! The food was amazing- we had so many great comments on how delicious it all was! Even my husband was quite impressed and VERY happy about our decision to let someone else do the cooking!
Thank you again! We will be in touch again for our next event and pass your name on to anyone who asks!
Thank you, Nicky - Email

Hello Chris,
It was a delight to work with you on Sunday. We had nothing but positive reviews of the food you provided. Thank you again and I will definitely keep your contact information for the future.
Sincerely, Rachel - Email

Chris,
Everything went well and the meal was much enjoyed. Thank you for making the meal part of the event go very smoothly and stress free.
Till next time, Kevin - Email

Hi Chris,
Thank you! The luncheon was a success and the food and service was wonderful.
I will absolutely keep you in mind for any future catered events.
Regards, Angela _ Email

Hi Chris
They loved your cooking! Both my brother, Fred, and his daughter, Jessica, said, "This is the best chicken I've EVER had!!" So, good!!
I hope Pat and John give you a ring to cater the event she has in mind.
Fondly, Sandy - Email

I hired C's BBQ Catering for my April wedding, and it was amazing. It was hot, and delicious. Almost every guest I talked to has said that it was the best food that they have ever had at a wedding, including weddings that were black tie affairs. Chris was in constant contact with me, and I never had to worry about anything with him. I would highly recommend them to anyone that has any type of event that needs to be catered!!!
Yelp 5 Star - Kelli T

We used C's at our wedding reception and it was fantastic. Before the wedding, we emailed back and forth, had a tasting, and discussed a price point effortlessly. They made it super simple. We picked a menu, changed a few things with ease, and set up arrangements for when they would set up food, and serving. When the wedding reception came, C's was right there with everything they promised. Our guests could not stop talking about how great the food was. Everything was exactly how we ordered it, and was beyond our expectations. Chris and C's made everything easy and pain-free on the front end, and delivered an amazing quality product. They are a joy to work with and I highly recommend them.
Yelp 5 Star - Trevor W

Hey Chris, You guys are so great to work with and the food was incredible. I can't wait until I go home and eat the leftover mac n cheese tonight for dinner!
Email - Matt M. St Matthew Lutheran Church

Hello Chris,
Thank you for a wonderful meal. Everyone was complementing the food, and said that it was just delicious. Also, it was great having you guys there and you made it easy, stress-free, and again, wonderful food. We really appreciate you being there and catering for our special day.
Thanks again!
Email - Anastashia

Hi Chris
The food was AWESOME as usual and Texas tri-tip even passed the test of our fellow Texan project leader!
We look forward to working with you (probably later in the month)!
Email - Maya DLR Group

C's BBQ Catering provided the food for my son's wedding last night. We got lots of compliments on the food. Great chicken, brisket, loaded mash, and macaroni salad! Would definitely recommend them. Very nice people. They were accommodating with special requests, were on time, packed up our leftovers and were very professional. Thank you, Chris!
Facebook - 5 Star Leslie

We have used Cs two times now and each time has been great and the food is off the hook good, Chris and his wife handle everything from the beginning to the end and that makes it easy. The first time was our company x-mas dinner for about 60 people and the second was a lunch for about 40 people and i can say that there is plenty of food at the end of each party as Chris really makes sure that all can get good size plates. All the people eating at the party just talked about how good the food was and we are going to use them again this summer.
Yelp - 5 Star Joel

Hi Chris!
Thank you so very much for your part in Saturday evening's celebration. The chicken was delicious!!! We enjoyed some leftovers on Sunday morning at our after church refreshments. Pretty good refreshments I would say!
Thank you for a great job. I will gladly pass your name on to others with a great recommendation!
Thanks so much to you and Dottie.
Email - Hilve, Community Covenant Church

C's was easy to work with despite my last minute changes. The food was great and delivered hot within minutes of my call to protect the secrecy of a surprise birthday party. He even make a small portion of Jalapeno Macaroni & Cheese without the Jalapeno for several younger guests who came with their parents. The guests loved the food and showered me with complements like I cooked it myself :-). I will recommend him to anyone who asks and would use him again in a heartbeat.
Yelp - 5 Star Tim D

Thank you very much Chris! We had a great time and had many compliments on the BBQ dinner. We appreciate all of your hard work and great food!
Thumbtack - 5 Star Kelly and Rob

Hi Chris,
Thank you for a wonderful Lunch. All our employees enjoyed the meal and we had plenty of food to cover our big eaters. I appreciate all you have done to provide us a great luncheon.
Thumbtack - 5 star Niello Audi

Excellent food, great communication and service.
Thumbtack - 5 star Alena R

Right on time, food was delicious and our staff was very complimentary. I will be recommending C's BBQ to others.
Thumbtack - 5 star Debra P

Chris & Dottie,
The food was amazing and cant wait till next year to try it again, i thank you and the entire group just loved your food. I enjoyed talking with you and Dottie and wish you a very merry Christmas and prosperous new year. Email Joel M

Chris- Thank you very much for providing the food for our party. Everyone loved it, and there wasn't much left over! We will certainly look to have you cater a future event. Regards,
Email Tim K

Hi Chris,
Everyone thought your food was exceptional, your service was great, and your demeanor was wonderful.
Thank you for everything you did for our family
Thumbtack - 5 Star John E

Hi Chris,
I just want to thank you and your wife for such a wonderful lunch/dinner at our wedding! The guests loved it. Danny and I went to Tahoe for our honeymoon and Danny kept complaining about the food we ate at different restaurants...he kept comparing it to your food and was dissapointed. We joke that your mashed potatoes ruined us because we can never have ordinary taters again after knowing yours exist! Teehee. I have a few friends getting married in the next year and I've passed along your info. Keep us in your email updates. I will definitely use your services again! Thank you. :)
Email Amanda H

Chis did an excellent job! The food was great and the set-up went smooth and looked wonderful. I would definitely recommend C's BBQ Catering.
Thumbtack - 5 Star Jana H.

Hi Chris
Once again, everyone loved the food and quite a few compliments. A couple of my folks suggested including flour tortillas with the pulled pork. Thanks for bringing it out. I'm sure I'll be looking for your services again in the next few months.
Email Bob M

Hi Chris
Thank you so much , my guest loved your food .
I did too!
Well done
I'll see you in my next event.
Email Thumbtack - 5 Star Prema

Hi Chris – everyone raves about your food which made our company picnic a huge success!
Nice to know that I can call on you for a lunch… and I will.
Thanks again and enjoy the day.
Email Joan H

Hi Chris,
The food was EXCELLENT! And if the need arises in that geographic area, we will certainly use you again.
Blessings,
Email Thumbtack Desiree

Highly recommend! My husband and I had C's BBQ cater our wedding reception and it was absolutely perfect! Chris was great in helping to plan a delicious meal within our budget and responded quickly in all our conversations. The food arrived right on time, was hot and wrapped nicely and was the perfect food after spending the day at the beach. I would recommend C's BBQ and definitely hope to do business with them again in the future!!
Thumbtack - 5 Star Ali

C's BBQ Catering was great! The food was delicious and the service was perfect. Thank you!
Thumbtack - 5 Star Goodwill I.ndustries

The food was very good, especially the potato salad! Everyone raved about it. The food was on time, hot and delicious. We also enjoyed the cheesecake bar immensely.
Thumbtack - 5 Star Kathi A

They were great! They came on time, set everything up, stayed until the last dish was out and everyone raved about the food. The pulled pork and jalepano Mac and Cheese were huge crowd pleasers.
Thumbtack - 5 Star Carrie B.

Thank you so much for catering our Wedding Reception, everything was prepared perfectly and was absolutely delicious!! The pulled pork was of course a hit but people couldn't get enough of the chicken either, and of course the sides were delicious and complimented the entree perfectly! I'd be happy to give you a five-star rating on any review and passed out your cards to our family in the area. Thank you so much again and hope we can do business again in the future!!
Have a great weekend,
Email Ali N.

Chris and his professional staff at C's BBQ Catering did an excellent job catering for our wedding. The food was GREAT! The tri-tip melted in your mouth. I would highly recommend them for your next event.
Thanks Chris. You rocked!
Facebook — 5 star Bert V.

Chris. Our food was excellent! Our family and friends are still talking about it 4 days later. Thank you sooo very much!
Facebook Kayla Vanderlans V.

You will not be disappointed, the food is fantastic!
Facebook — 5 star Jim B

"I am still getting compliments on the catering! The chicken and Tri Tip was tender, the loaded mashed potatoes were amazing, the bacon mac and cheese to die for! We would definitely use and recommend C's BBQ catering again! "
Wedding Wire, Jen & Sean

Chris did a wonderful job at our event. We will definitely be using him again in the future. Thanks!
Thumbtack - 5 Star Lisa M.

We would give him a 9.5 out of 10! The food was delicious, and Chris was timely and professional. His BBQ lunch was a big hit at our office luncheon.
Thumbtack - 5 Star Jesalyn H.

I have been a pastor for over 25 years. When my son and his wife were married two summers ago Chris catered the meal. It honestly was head and shoulders over anything that I have experienced in over 25 years of doing weddings. The food was absolutely awesome and no one went away hungry. People are still telling me how good it was! And his graciousness, calmness, goodheartedness, and professionalism shone throughout his service to us. I would heartily encourage anyone to use him! Thanks Chris!
Brad C.

Chris was great. He was on time, the food was awesome, and he was prepared. C's BBQ catering helped my family throw a fantastic event for my company and I'd highly recommend him to others.
Makes for great leftovers too!
Blake K.

C's BBQ catered lunch at my work and it was AMAZING. The food was delicious! The meat had fantastic flavor and the sides were yummy with a wide spectrum of tastes to choose from. Every utensil we needed was provided. I would DEFINITELY use them again.
Facebook Melissa W.

Chris went above and beyond as the caterer for our church family event. He worked within our budget and provided lots of high quality BBQ for us. Everybody loved the food and had plenty to eat. I always recommend Chris to friends and family when considering BBQ catering.
Matt M.

C's BBQ Catering did an event for our office (approx. 80 people). Event was located in a local park. Food was fantastic, hot, and service was great! We would highly recommend this catering company.
Thumbtack - 5 star Natalie M.

We had C's cater a an office picnic event. They were great. On-time, great food, tons of extra food and nice people.
Brian J.

The food is absolutely delish!!
Facebook Lynn T.

Just plain good food. Especially the Whiskey beans!
Facebook Roger L.

C's bbq is awesome!! thanks for sharing you great food last Saturday!! you made the car show event a success!!
John F.

I have sampled Chris's home made sausages, they are GREAT!!! I highly recommend them as a party entree. Thanks Chris.
Thumbtack Scott F.

---
Food Service Experience
Sunset Christian Center

Banquet Service 50-600 guests served. (10 Years) Holiday parties, church events & celebrations, fundraising

events, menu planning, purchasing and food donation procurement, food prep, cooking, direct kitchen and serving teams for the events.

Rocklin Jubilee

Tri-Tip Sandwich Booth Fundraiser (4 Years) Annual event.Served between 3000-4000 guests on a 1 day event. Santa Maria

style Tri-Tip sandwich soda chips salsa. Planning coordination purchasing and donations food prep, cooking, direct volunteer crew for cooking &

serving worked with local health department for approval of outdoor venue.

Point Man Local Monthly Men's Meetings

Breakfast Service 300-400 Guests, Prep Cook (4 Years)

Community Covenant Church

Banquet Service 50-350 guests served. (8 Years) Holiday parties, Christmas, Valentines dinners, women's tea events,

men's retreat's, church events, fundraising events, outreach projects menu planning, purchasing and food donation procurement,

food prep, cooking, direct kitchen and serving teams for the events.

Check out our options and give us a call or text to get a quote for your next event.

(916) 203-3952 csbbq@csbbq.net

Smoker Build

Bridgeway Christian Church, Alongside Ministries, monthly serving
Sacramento's Homeless community 150-300 Guests at our monthly events. (Past 4 years up to December 2013) All event food and equipment
responsibilities. Design and set up of mobile kitchen, coordination of personnel & equipment load out, cleanup and storage, inventory, menu
planning, purchasing, prep cook, cooking, direct cooking crew.

Various wedding events (over the past 3 years) 50-250 Guests
menu planning, purchasing, prep cook, cooking, transportation, direct cooking crew and Serving crew at wedding events.

Dottie's Day Care Rocklin 1994-current
Child Care Facility Cook Full Time Position