C's BBQ and Catering
Serving
Sacramento
and Placer County
If you have any questions about our service, please email us below
Tastings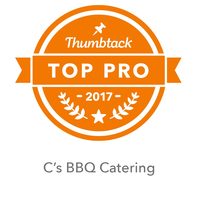 2018 Tasting Dates: January 21st, March 18th, June 17th, September 16th
We do catering only (No Storefront Restaurant) all our meals for events are cooked to order. We schedule 4 tasting dates a year, below is the information on our 2018 schedule.
The Tastings we do are for 6 people you can chose 2 meats, 2 sides, 1 salad, and 1 bread choice. We will deliver this to your home or to a location of your choice for you to enjoy with your family and friends. We charge $120.00 + Tax for this service (if you have over 100 guests for your event) you will receive a $60.00 credit towards your deposit upon booking. We need to have the tasting's booked 10 days in advance of the tasting date. The next tasting we are setting up will be on Sunday January 21st deliveries will be between 4:00 – 6:00 PM.
If you would like to set up a tasting please let us know.
Thank you
Chris
Call to schedule an appointment for banquet or catering needs, please call or text
(916)-203-3952
Or
Email us at
csbbq@csbbq.net
Serving; Auburn, Lincoln, Loomis, Rocklin, Roseville, Sacramento & Placer CountyWe are a catering company, all meals are cooked to order, we generally need at least 3 days lead time to put an event together.
---
Get A quote

Please Let us know:
The date and time of your event
The Location of your event
How many Guest you expect to be serving
Your budget
If you have an idea of the food you would like to serve
The best contact phone and email for you